19 September 2023
Following the Russian invasion of Ukraine, a large number of Ukrainian academics had to leave their home country. Many of them have been welcomed as guests at German universities. We have met four of them who are currently working at Johannes Gutenberg University Mainz.
The Turkic Studies scholar
"It's a great honor and opportunity for me to be here in Mainz," says Dr. Oksana Tyshchenko-Monastyrska. The linguist has been invited to conduct research in the field of Turkic Studies at JGU's Institute of Slavic, Turkic, and Circum-Baltic Studies since September 2022 and is thankful for "this exceptional academic environment."
It was Professor Julian Rentzsch who suggested that she come to Mainz. They had already been in professional contact for some years.  After the war in Ukraine began in February 2022, he got in touch with her and suggested she apply to the Philipp Schwartz Initiative for a scholarship. This program, established by the Alexander von Humboldt Foundation and the German Federal Foreign Office, enables academics who are significantly at risk in their home country to continue their work in German higher education and research institutions.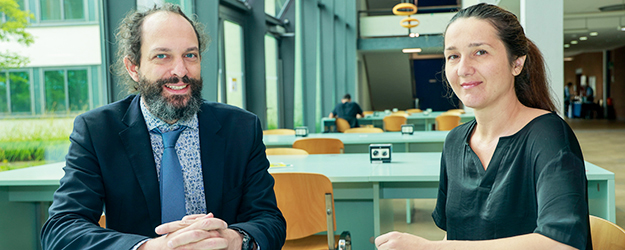 Oksana Tyshchenko-Monastyrska is an expert in the Turkic languages of Ukraine. Her current research project involves studying the grammar and syntax of a historical manuscript written in Krymchak, a language almost extinct today. Shortly after the war began, she fled to Poland with her seven- and nine-year-old sons. Her husband stayed behind in Kyiv, the family has been separated ever since. While in Poland, she had to wait for the decision from the Philipp Schwartz Initiative. The acceptance came in August last year. "We quickly packed up our things and came to Mainz," she remembers.
The first few weeks, she and her sons were accommodated at the guest house on the Gutenberg campus. "I was amazed by how many people here at the university were keen to support us," she recalls. The International Office assisted her in finding a permanent accommodation, registering with the authorities, and other organizational matters. Professor Rentzsch, her mentor at JGU, also supported her in various ways.
"I am thankful that in these difficult times I can work, despite the war," she adds. In the coming winter term, she will teach a seminar on the Turkic languages of Ukraine. "It's a completely new subject that has never been taught before," she emphasizes. "When I get back to Kyiv, I would like to offer a course on that subject there, too." Oksana Tyshchenko-Monastyrska is convinced that she will benefit greatly from the contacts and experiences she is accumulating at Mainz University.
The physicist
Professor Oleksiy Kolezhuk is another Philipp Schwartz Initiative scholarship holder. As was the case for Oksana Tyshchenko-Monastyrska, it wasn't by chance that he came to Mainz. His has been in touch with a fellow physicist, Professor Olena Gomonay, a former colleague from Ukraine, who had been working at Mainz University for a couple of years. When Russia invaded Ukraine on February 24, 2022, Oleksiy Kolezhuk and his wife were in the USA. They did not return to Kyiv in March as planned, traveling instead to Bavaria. In the meantime, Oleksiy Kolezhuk's wife, also a physicist, had received an invitation from the University of Regensburg. In July 2022, once he received confirmation of his Philipp Schwartz Initiative scholarship, he moved to Mainz.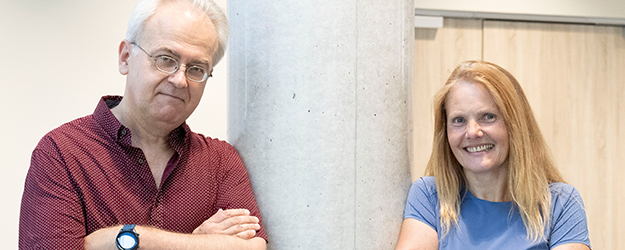 Oleksiy Kolezhuk had lived in Germany a number of times during his academic career. He even obtained his post-doctoral professorial qualification in Hanover some 20 years ago. "I already knew the German system inside-out. So we didn't need any further help when we arrived here," says Oleksiy Kolezhuk. For over a year now, he has been conducting research in spintronics as a member of Professor Jairo Sinova's group at the JGU Institute of Physics. In view of this research group's excellent international reputation, Oleksiy Kolezhuk is hopeful that this post will lead to a long-term collaboration.
Currently, he is thinking about establishing an exchange program for students at JGU, Taras Shevchenko National University of Kyiv, and the Institute of Magnetism in Kyiv. "The study of the physics of magnetism is well established in Kyiv. Thus, eminent Ukrainian researchers could be involved in the program," says Oleksiy Kolezhuk, who is director of the Scientific Committee of the National Council of Ukraine on Science and Technology Development. As such, he will be among the senior advisers to the Ukrainian government when it comes to dealing with rebuilding the country's academic research infrastructure after the war.
According to Kolezhuk, the migration of research talent abroad and to other fields is likely to have dramatic consequences for Ukraine: "It will take a very long time – generations perhaps – to rebuild the strong human capital that we had before the war." That's why he considers it particularly important to support academics in Ukraine and strengthen academic networks. "It would be extremely useful for Ukrainian students to be able to take part in joint projects, to name just one example."
The German Studies scholar
"I've always thought of myself as a Ukrainian German Studies scholar," says Dr. Eduard Isayev. This is a very important message for him. Eduard Isayev comes from the Kherson region, but his home university is in Simferopol in the Crimean Peninsula. He studied German language and literature there in the 1990s, later holding the Chair of Greek Philology among other posts. "Crimea has always been a multicultural hodgepodge. Various peoples have left their mark there, including the Goths, the Ostrogoths, the Greeks. Crimea is the home peninsula of the Crimean Tatars," he adds. And the Crimean Peninsula has left its mark on him, both as an individual and an academic. Accordingly, his current area of academic interest is the cultural identity of Ukrainians and the factors that determine this identity. He has applied for a research scholarship in this field.
When Eduard Isayev and his wife decided to leave Ukraine in March 2022, it was logical to head to Mainz where their son was studying at the time. He contacted the International Office at JGU and got an answer the very same giving him a list of important contacts. The director of the NaTLab for school children at JGU, Dr. Christa Welschof, and her husband took the Isayevs in. "I am very grateful for the support I've encountered here. Everyone did their best to help us," emphasizes Isayev. His academic ties to JGU are through Professor Marion Grein, director of the German as a Foreign Language Master's degree program. "We got to know each other and it fits perfectly," he says. "We speak the same academic language."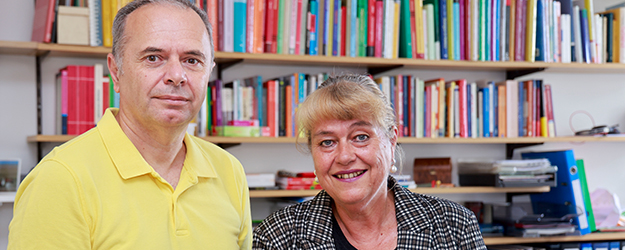 Over the past three semesters, Eduard Isayev has been working on his research project and attending several Master's degree program courses at JGU, too. "That has taught me a lot, and in future I hope to be able to benefit from it professionally," he says. Eduard Isayev has retained his post as Associate Professor at Kyiv National Economic University, and he already has plans for the post-war period as he is thinking of developing a new degree course. He is striving to encourage cooperation between the two universities and is hoping it will become a long and successful partnership: "That would be just perfect," he concludes.
The comparative linguist
"I didn't have a definite plan; I fled the war in Ukraine." In March 2022, Dr. Anna Lyashuk had no idea that she would end up in Mainz. She was actually hoping to obtain her post-doctoral professorial qualification at the Taras Shevchenko National University of Kyiv, but the Russian invasion of her homeland changed everything. Three weeks after the war started, she was forced by the circumstances and threats of the Russian invasion to leave her homeland – together with a friend's family. Along the way, she received encouraging messages and offers of support from friends and colleagues from many parts of the world, people whom she had met at academic events or through her previous position as director of the International Office at the Central Ukrainian State University in Kropyvnytskyi. Yet providing temporary accommodation for four people was a lot to ask. "And then a friend from Germany suggested that we could come to the Mainz area. The parents of one of his friends, an elderly couple, had enough room to put up all four of us," recounts Anna Lyashuk. "To be able to more clearly identify the point of destination was a great relief, and we accepted the offer gratefully." A few days later, the small group arrived in Appenheim, still uncertain of what the future held for them, not yet thinking about making a new start in Germany.
Having coped with the initial shock and anxiety of their situation, Anna Lyashuk got in touch with the son of the host's family. He himself had previously studied and even completed his doctorate at JGU. He suggested to visit his alma mater in Mainz and see if there might be some opportunity for her to use the university library and continue her research. At that moment, the idea of finding common ground between her academic field of comparative linguistics and related research fields at JGU seemed still rather vague. "How positively impressed and delighted I was to receive almost immediately a very friendly and warm reply from Professor Susanne Wagner to my letter of request. It was extremely kind of her to see my potential considering my research interests and teaching experience and to welcome me into her English Linguistics team at JGU a couple of weeks later!"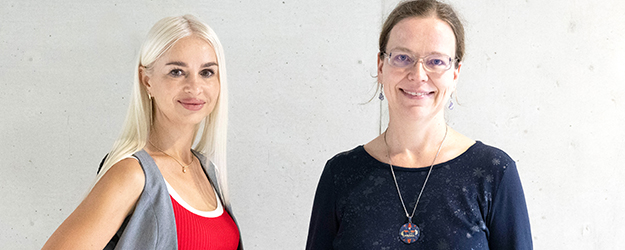 In June 2022, thanks to Professor Wagner's support, Anna Lyashuk was offered part-time work at the JGU Department of English and Linguistics. "The fact that I have been so warmly received here at the university and by the faculty is not something that can be taken for granted. It means a a great deal to me", she emphasizes. Alongside teaching courses, she continues working on her professorial thesis, a comparative study of political discourse in English and Ukrainian. "Working with the students provides me with a feeling of stability and continuity, which does me good in these troublesome times of uncertainty and war", she adds. "Living and working in a completely new environment is challenging and promising at the same time. Hopefully it's a win-win situation as I am thriving to be a valuable asset to the work in the field of linguistics being carried out by Professor Wagner and her team."
Looking ahead optimistically into the future, there is the perspective of developing the current opportunity further. Dr. Anna Lyashuk is staying in touch with the universities in Ukraine, where she previously did her postdoctoral research and worked as an associate professor. "I believe my experiences here will be useful in helping to establish a fruitful Ukrainian-German network and carrying out joint projects with JGU after Ukraine wins the war."
Helping Ukrainian refugees and Ukraine
Immediately after the start of the Russian war in Ukraine in February 2022, Johannes Gutenberg University Mainz expressed its solidarity with Ukraine and began devising various ways of supporting Ukrainian students, teaching staff, and researchers. "We deeply care about the people of Ukraine and offer our full support to those who had to flee or are in danger in Ukraine," stated JGU President Professor Georg Krausch.
Mainz University has declared all Ukrainian universities to be JGU partner universities. As a result, students from Ukraine are entitled to enroll at JGU for one or two semesters with the status of exchange or free mover students, regardless of any cooperative agreements. Initiatives such as the student-organized "Mainzer Sprachbrücke" offer German language courses at JGU. In addition, the university supports the Ukraine Art Aid Center that has been set up to protect the cultural property of the country.
A few weeks ago, 456 Ukrainian school students successfully completed online examinations at a level equivalent to the German university entrance qualification at JGU, with Mainz University providing the necessary facilities and technical infrastructure. These examinations took place simultaneously in Ukraine and all the European countries where displaced Ukrainians have found refuge. In addition to the many private initiatives, it is through bureaucracy-free offers of support of this kind that the university and its members are providing help for people affected by the current war in Ukraine.